BRCA
, advised by James Sturm, is the first five chapters of what will (someday!) be a full length graphic novel that explores the implications of living with the BRCA genetic mutation.  The story follows the lives of four women in Rebecca's family tree (dating back as far as 1770) as they deal with varying stages of breast cancer, navigate womanhood and their Jewish identity and how these aspects of their lives interact.  The first five, hand-bound chapters are printed in full color with two differing color palettes to extend the metaphors that develop in the project's meditation on memory--both genetic and personal. 
To view the full production of each of the five chapters, click here.  
Q TRAIN
is a 48 page, full color, spiral bound, MICE mini-grant award-winning comic that chronicles the story of a subway car as it makes its way from Coney Island to 96th street.  As comics-critic, Rob Clough, says,
Q TRAIN
is an "entirely wordless comic, (other than announcements from the PA) but it's not without communication . . . Schuchat's use of color is bright and bold but still restrained, as that particular technique lends itself to a more nuanced use of palette than standard computer coloring. However, what really stands out here is Schuchat's use of line. Even with a relatively stripped-down figure drawing style, Schuchat's thick line is highly effective in not letting color overwhelm her pages, and her use of gesture and body language is top-notch." 
Q TRAIN
is available for purchase through Radiator Comics!
Where's My Timbrel?
is an ongoing bi-weekly comic strip published in J. Weekly Magazine about being a millennial Jew, living in the San Francisco Bay Area.  
Shame is a 16-page comic adaptation of Numbers 12.  Comics critic, Rob Clough, writes: " On virtually every page, Schuchat flips black and white in terms of which color dominates a panel, and the way she spots blacks and uses negative space so effectively gives the story a highly fluid and visually exciting charge. Combined with her use of spot reds to accent the page and highlight the narrative, and the result was a visual approach that set the stage for this story about shame, patriarchy, and femininity." Full comic is available for purchase from Radiator comics.  
The World Folds In Like A Map
The World Folds In Like A Map is a short comic born from anxiety dreams about apartment hunting in the two places I've lived the longest, Oakland, CA and Brooklyn, NY.  
Elegy is a 15-page comic published in the anthology, Moving Through An Unseen World (out of print).  The comic is a meditation on the word "passing" and all it's connotations through a brief moment following my grandmother's death.  To view a full PDF of this comic, please reach out.
I Remember Reading Somewhere That Our Cells Regenerate Every Seven Years
This short comic was originally published in Que Sera Vol. V, anthologized by Izel Villarba. Que Sera V is available for purchase here.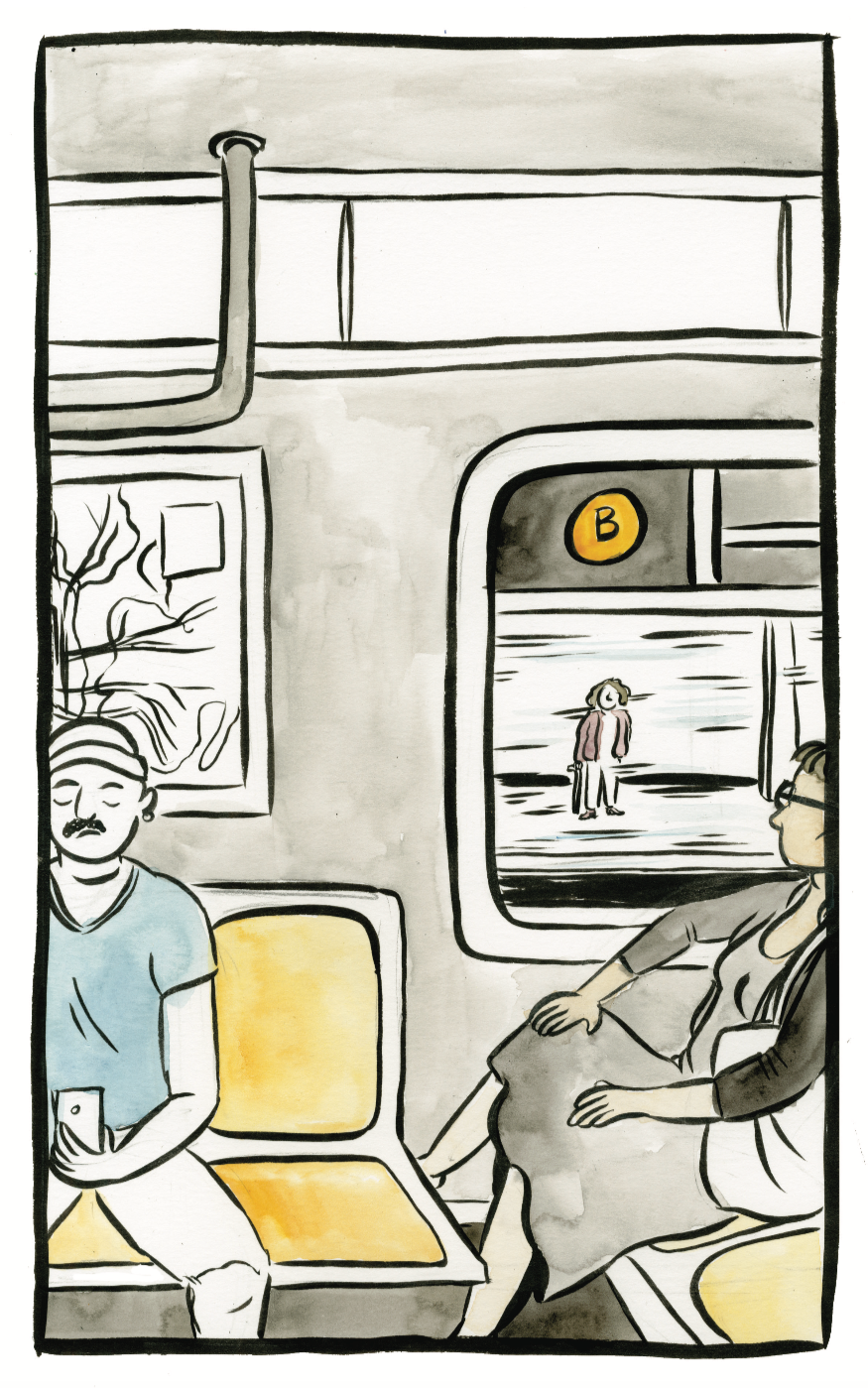 Prop 22 is a short comic/infographic about California Proposition 22, a ballot initiative sponsored by Uber, Lyft and other tech companies that made it illegal for gig workers to unionize.  

​​​​​​​
This was the personal essay comic that I submitted with my application to the Center for Cartoon Studies.  The requirements were that it needed to include a robot, a snowman and a piece of fruit.